Evaluating the Threat of Meteorite Impacts


| | |
| --- | --- |
| "Although earthquakes, volcanoes and hurricanes pose a more high-profile threat, the statistical likelihood is that a populated area on Earth will be destroyed by an asteroid within the next 40 years." | |
Since the Earth formed, there have been around 200 meteorite impacts large enough to wipe out all life on the planet.

The most recent "Extinction Asteroid" is well known. It hit the Earth 65 million years ago and annihilated 50% of all animal species on the planet, including the dinosaurs. It caused the Chicxulub impact crater pictured left.

There are currently 177 potentially hazardous asteroids which orbit close to Earth.

Pictured right is Ida which is 58 miles long and 23 miles across. If every asteroid in our solar system glowed, the night sky would be white, not black.

A crater 170 Km across was made in Manicouagan over 210 million years ago.

One of the few massive impact craters which can still be seen clearly. Many ancient impacts go unnoticed as lakes or amongst mountain ranges.

The Sahara Dessert bares the scars of an impact which left a crater 17 Km across.

Around 300 million years ago, a rock 1.5 Km across smashed into the dessert leaving marks which are still visible today on this radar map.

35,000 years ago an object only 25 metres across created this 1.2 Km crater in Arizona.

Meteors on this comparatively tiny scale arrive roughly once every fifty years. Impacts four times this size can be expected once every couple of centuries. Six out of seven hit the ocean.


It is easy to be complacent when reading about
long-gone millennia and ancient impacts...

but in more recent times....



Around 2000BC, while the Egyptians were in their 11th Dynasty, a Hiroshima-sized explosion happened in Estonia.

The forest burned for 6km and nine craters were blasted into the ground, with the largest crater created being 110m wide.

In 1863 a 10 metre asteroid broke into fragments before smashing into Saudi Arabia with the force of 10 Hiroshima bombs.

Pictured here is one of the three impact craters in the Wabar dessert, the largest being 116 metres in diameter.


In 1908 Siberia was hit by a rock 50 meters across which destroyed an area the size of Central London.

The infamous Tunguska event was once thought to be the most recent significant meteor impact in Earth. The object exploded 5 miles above the ground but with the force of 1000 Hiroshima atom bombs.

The total area of devastation was 2000 square Km.

As the object came through the atmosphere its tail was over six hundred miles long and after the impact the effects could be felt half way around the globe.

Another huge meteor hit Brazil in 1930 with the force of 10 Hiroshima atom bombs.

Witnessed by the natives as a huge explosion near the Amazon, and documented by an Italian explorer.

| | |
| --- | --- |
| In February 1947, a fireball brighter than the sun appeared in the sky and then struck the Earth in Russia. The Sikhote-Alin meteorite impact was heard for 300km around and left a series of craters, the largest of which was 26m across. | |

In 1972 a meteor with the destructive power of 5 Hiroshima bombs entered Earths atmosphere heading for a city….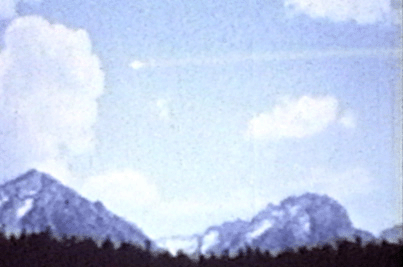 ...by an amazing piece of good fortune, its angle of descent was too shallow and it bounced off the atmosphere, skimming it like a stone on a lake. Its trajectory had been taking it straight towards Alberta. Amateur film footage shown above of this gigantic shooting star tearing across the afternoon sky and its significance has been re-appraised based on the recent findings regarding the threat of meteors.

Our understanding now is that six out of seven objects hit the ocean but a significant number exists to threaten our civilisation, or large sections of it.

A large "Tunguska Event" can be expected every 100 years or so.

Smaller, but still catastrophic impacts can perhaps be expected up to five times per century.

Having had only two in the 20th century, not counting the near-miss in 1972, and assuming that there are no more unknown impacts to be discovered, we are long overdue for a visitation from space.

Click here for Google Earth images and size-comparisons of craters.
© 1999