It is no secret that Jurassic Park is riddled with scientific inaccuracy. This page aims to clearly illustrate the most significant error in the film. However, I'm not even certain that the word "error" is appropriate because certain of the - shall we say - "untrue dinosaur renditions" appear to be deliberate.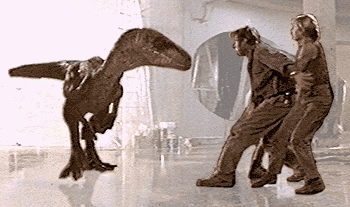 "Velociraptor" as depicted in Jurassic Park
The focus of this page is Velociraptor. This animal is described in the book and in film dialogue incorrectly as being 2 metres tall. In reality Velociraptor was 2 metres in length and probably stood just under 1 metre tell. This size depicted in Jurassic Park could be forgivavble for dramatic effect however it does beg the question: "Why not simply use a larger dinosaur of the same family?"
The bizarre thing is that the dinosaur in Jurassic Park which is given the name "Velociraptor" is actually an accurate rendition of another animal - Deinonychus.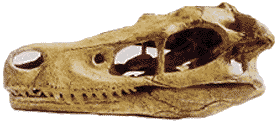 Above is a true Velociraptor skull. Notice how slender the nose is.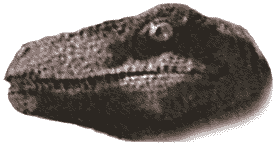 Above is an image from the film Jurassic Park. The skull of this animal is significantly deeper and the more steeply sloped.
Above is the skull of Deinonychus. Look at the angle of the snout. Compare the depth of the skull and also the proportion of the upper and lower jaws - they are perfect match for the "Raptors" seen in Jurassic Park.
Dilophosaurus Not to Scale
The Dilophosaurus shown in Jurassic Park was given a large neck frill and the ability to spit venom. While these characteristics are proven true to the animal (because soft tissue does not often preserve) they cannot be argued against.
What I do consider to be inaccurate is the size of this animal. The true size of this animal ranges from 5.5 metres up to 7 metres.

The above illustration shows the size of Dilophosaurus as it should have apppeared and, in light grey, the size of the animal as it was in Jurassic Park. Perhaps it could be argued that the two seen in the film were juveniles.
Similar size errors are made with the Stegosaurus in The Lost World: Jurassic Park.