Proceratosaurus
"before Ceratosaurus"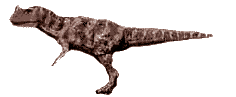 Length

Time, Million Years Ago

Place

3m

164 - 159

Great Oolite of
Gloucestershire
| | | |
| --- | --- | --- |
| First Named | Discoverer | Family |
| 1926 | von Huene | Ceolurosauria |
This animal is known from a partial skull with both jaws but lacking the cranial roof. Although the dorsal (back) portion of the skull is missing, enough remains to show that a medial horn core sat on the nasals above the nares (nostrils). The skull is lightly-built and the premaxillary (front of upper jaw) and mesial (middle) dentary teeth are distinctly smaller than the more distal (rear) teeth of both jaws.
The surangular (rear of upper skull) is shallow, indicating that Proceratosaurus is not a carnosaur.
There are numerous similarities between Proceratosaurus and Ornitholestes hermanni however the mandible is shallower in Proceratosaurus than in Ornitholestes hence this taxon is generally left as and indeterminate basal coelurosaur.
It has been suggested that the median structure in Proceratosaurus may actually represent a midline crest rather than a horn, a convergence with Monolophosaurus.
Type Species Information
Proceratosaurus bradleyi
Remains: Partial skull
© 2002 Gavin Rymill