Flaybrick National Bat Study Centre (Wirral)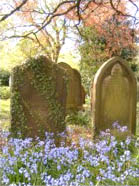 The Project
The Flaybrick Chapel Bat Study Centre was first conceived in September 2002, whilst looking through the past efforts to protect the chapel buildings. The project is an unique opportunity to study bats in a purpose built structure, whilst saving a huge chunk of our local heritage. The project will create a centre for training, lectures walks and talks as well as much needed study into the intraspecies behaviour.
The centre would also house a local history archive of grave recordings from Flaybrick, to enable people from around the world to trace their heritage and family trees.

The Project Guidelines/Brief
Renovating the chapel building, in full/part to house bat study centre with under-floor Hibernacula and Nursery roost facilities, study centre, lecture theatre, offices, dormitory and living space. The restoration would include the re-roofing of the two main chapel buildings and vestibules, the re- erection of the 100ft spire and the opening of the walk through processional arch with the creation of a "garden of contemplation" (in the processional aisles, please see corresponding section).

Improving the local biodiversity and thereby improving the area for bat habitation. (The plans will complement the Wirral Biodiversity plans, and management will extend onto Bidston Hill SBI, the Ranger for Flaybrick and Bidston Hill is in full support of the project, local council have also showed their support). For more detailed ground management information please see the "Ground Management section"

Provision of overnight facilities for 15 persons to stay and study, with showers, toilets, kitchen and lounge facilities as well as some disabled provision. Although the centre will be excellent to study bats, it will also provide a base to study the other unique aspects of the Wirral, geology, geography, history and cultural heritage etc.

Office and meeting spaces. There will be provision for a "Lecture theatre"
able to seat 40 persons as well as small office space and meeting rooms, with refreshment facilities. The lecture theatre will/may also be used as a public meeting place and display area. The meeting rooms and lecture theatre will be available to local community groups, schools, colleges, universities, local history groups, Biodiversity and wildlife groups as well as bat groups, conservation groups and any other groups with reasonable requests. The offices will be used by the Friends of Flaybrick, and may house the Sextant and/or the Ranger for the Memorial Gardens.

The Garden of Contemplation, an area utilising the beautiful processional aisles, providing local people with a quiet space to come and think. The area will of course be planted with plants, which will assist in the increase of biodiversity. A small water feature bubbling fountain with a flat top will help increase the serenity of this much needed area of escape from the hustle and bustle of the world. Available to anyone, open during the day and secured at night.

We are hoping to provide an uplink on our cameras to a purpose built internet site.

Next > Project Guidelines/Brief