Finding Charles
The first port of call was to locate Charles Rymill in the censuses. As we knew his place of birth and the name of his wife and children, it was easy to locate him in each census:

Census
Birth
Age
Parish
Place Born
Occup.
Father
Fa. Occup.
Mother
Address
Notes / Living with
1841
1821
20
Banbury
Oxfordshire
Whitesmith
North Bar St
Living with Samiel Thompson (30), a tailor and Mary Thopson (7)
1851
1821
31
Neithrop
Deddington
Smith
123 Boxhedge
Caroline Ann (25), William Henry (3), Frederick Charles (1)

Living at 111 Boxhedge is James Rymill (19) a labourer, lodging with John & Mary Claridge and Geroge Neal, a labourer.
What the above shows is that in 1841, our Charles Rymill had already moved the five miles or so from Deddington where we know he was was born, to Banbury. Ten years later he had met and married his wife, Caroline Ann, and they had had two children, one of which was my great, great grandfather. It is interesting to note he is lodging with a man who is a tailor, as his father was, and yet Charles himself has become a smith. This little detail makes me wonder if his father found him somewhere to stay through work connections. As he has left home by 1841 this means that in our search for a family with a William Rymill at the head, we can discount any that still have a Charles still living at home.

Finding William and Connecting Children
To find the right William we need a family that fits the following:

Father William Rymill should be born between 1780 and 1795 (if he had his first known child between the age of 20 and 35)
William's occupation must be a tailor (or not specified)
Spouse must be called Ann (or not specified)
Living near Deddington
No Charles at home

There is only one record which matches all these criteria:
| | | | | | | | | |
| --- | --- | --- | --- | --- | --- | --- | --- | --- |
| Census | Birth | Age | Parish | Place Born | Occup. | Spouse | Address | Notes / Living with |
| 1841 | 1783 | 58 | Deddington | Oxfordshire | Tailor | n/a | Pilcock St | Thomas (12), Louisa (19), Eliza (15), Lavinia Harrison (6) |
Deddington is a tiny place and to find a match as close as the above is very compelling indeed. For this reason I am certain this is our William (tailor). The fact that Ann is missing does not bother me as it only records who stayed in the house the previous night and she could have been away (but more on that later). What is particularly compelling about this match is that the William Rymill living in this Pilcock Street is aged 58 and yet his oldest child is 19, which means that birth took place when William was already 39 years old! It is a certainty in that day and age that the Thomas, Louisa and Eliza living in Pilcock Street were therefore not William's first children and there must have been some children before. The baptisms showing young William born 1815, Emma b.1816 and our Charles fill this void perfectly which would equal six children for William (tailor), of which three have baptism records and and the other three are on the census. We can only assume that William Junior and Emma died before 1841. This would still mean that William (tailor)'s first known child was born when he was 27 which is quite old for the period but it must be remembered that we are only discussing known names and child mortality rates were so high that I would conjecture that there was at least one child prior to 1815 (probably a girl so as not to use up the name William) and they did not survive to baptism age.

A Close-Knit Family, and a Family Business
Unfortunately Pilcock Street, as with many streets of the time, no longer exists so it is impossible to say how close William (tailor) lived to any other part of the town. However, by going through the census volume page-by-page is it possible to plot a rough route that the census man travelled. Going back to page 1 of that section, it starts at New Street in the south west of the town which is by far the longest section up to page 14. The census then goes through the town centre along Hudson Lane (now Hudson Street), along Market Street (now Market Place), down the unknown Pilcock Street for six pages, then through Chapel Street (now Chapel Square), and finally along Castle Street to Castle End in the east. What does strike me is that today there is a Philcote Street, a close phonetic match for Pilcock Street and quite possibly corrupted over two hundred years. What is clear is that all the streets mentioned in this section are within about 200 yards of the each other. To fully apprecite the tiny nature of this hamlet, click here to view a map.

With the closeness of this community in mind, we now look a few pages earlier before William (tailor) on the census, and only a short distance away in New Street, we find another William Rymill. This gentleman is aged 82, which is twenty-four years the senior of the one we are investigating - It is an absolutely perfect age to be his father. He is listed with an Edward (15) and curiously, an Ann who is aged 60. For a husband and wife to have a 22-year age gap is unheard of in the early 1800s when even a five year age gap is unusual, so she must be a younger relation. At the age of 60 it is unlikely she is a spinster so Rymill must be her married name. This is of course leading to the fact that she is exactly the right age to be married to our William (tailor)... And don't forget that his wife, who needs to be called Ann if we have the right one, is missing from the census on nearby Pilcock Street. Keeping in mind these censuses only make a record of who stayed in the house the previous night, not who lived there, it fits so perfectly that this would be our missing Ann staying over at her elderly father-in-law's house. At that age he was probably "deaf and dumb" as many over-70s are described in other parts of the census. She may not have just been staying the night, she might almost constitute a full-time carer. Sadly the census can shed no light.

To further strengthen this connection we only need to walk four doors down from our elderly William on New Street to meet another family: The head of the family was Henry Rymill (45), his wife was Fanny Rymill (46) and their children: Jonathan (21), William (17) and Elizabeth (9). The profession of this Henry, like the William Rymill who lives in Pilcock Street, is a tailor. This Henry is thirteen years junior to William (the tailor), ideal to be his brother and there's also the extra detail that Henry named one of his sons William - after his father? What are the chances of having two Rymills living four doors away in a tiny village and them not being related? What is the liklihood of having two Rymills living only 200 yards apart and them having rival tailor businesses? These two must be working together and it is a certainty that they are related, although how closely is up for debate. I would be prepared to bet money that the elderly William had been a tailor too and the sons were running the family business.

One final link: My great, great, great, grandfather was Charles. We know he had a father called William (the tailor) and if the conclusions above are correct, then he had an uncle called Henry. Isn't it therefore perfectly logical that when Charles's first child was born he saw fit to name after both his father and his uncle? Hence: William Henry Rymill, born in 1847.

For me, the close proximity of these three groups of Rymills, the shared occupations of two of them, the repeating name of William and the use of the name Henry by William (tailor)'s son, combined with the fact that if all three families are taken in context it even explains why there is no Ann for William in Pilcock Street, it all compells me to complete the tree as follows: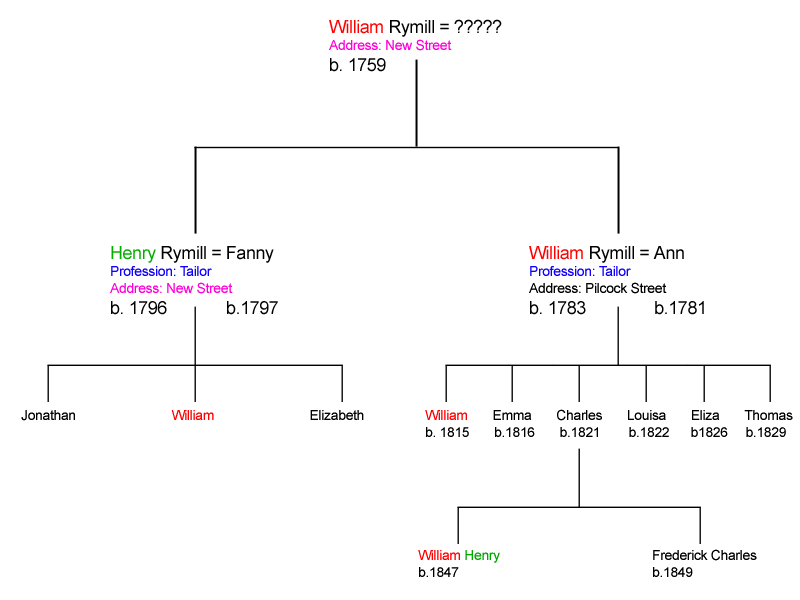 I would love to hear from anyone with any input into this lineage.

familytree@gavinrymill.com